Can investing on the latest digital trends bring your organization the accelerated growth and market disruption potential that you aspire?
Year after year, Digitalization trends come and go. Some fade into obscurity while other trends define the future of business operations.
Early adopters of new digital strategies either land into a pitfall due to the vicious cycle of experimentation or find burgeoning success due to the impact that the innovation brings to a current obstacle.
Then there are the others; Organizations that fanatically abide by their traditional methods and those sitting firmly on the fence on whether or not to pursue digital solutions (they either feel that their legacy applications are yet to run-its-course or that digitization could be a risky venture).
No matter what your perspective is, digital transformation has taken rapid strides; it is clearly the paradigm for business models now and in the future.
By extracting the benefits of digitization, enterprises have become leaner, meaner and more agile – making quick and accurate results at one go from just about anywhere on any device.
Eventually, traditional processes will fade away under the increasing complexities of an evolving market and customer demands. But the opportunities that digital transformation poses will continue to expand – touching different aspect of businesses like never before.
Let's look at digital transformation trends that are set to take the industry by storm in 2019:
Artificial Intelligence / Machine Learning goes mainstream:
Artificial Intelligence and Machine Learning led disruptions has already made a deep impact on medical sciences, robotics, business analytics and development, transportation, and much more.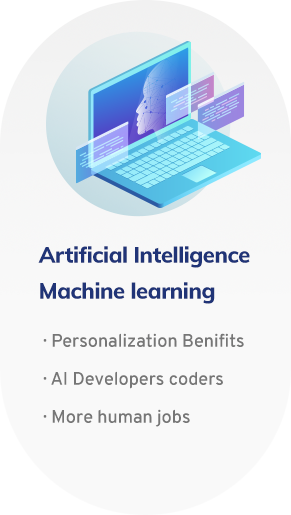 Personalization experiences have come of age due to the predictive analytical power of AI. From virtual profiling, automated preference matches and searches, AI's omni-present stature in personalizing user-experiences will be redefined even as remote smart devices embedded with AI/ML chips find their feet and open up more opportunities to bring personalized benefits on the go.
Businesses will lean on machine learning and neural networks to augment its analytical processes and disrupt the way data is retrieved, stored and shared. The concept of AI developers/coders may finally be realized – giving birth to a new wave of faster, more precise programmers that keep evolving through a continuous pattern of learning.
The theory that AI or machines replacing human jobs has been talked about for years now. During the industrial revolution, this replacement theory was met with a spate of violent protest. Ironically, more human jobs were created than destroyed due to the industrial revolution and according to Gartner – more job spaces will be available now and in the future due to AI.
AR/VR – When virtual becomes our reality:
Virtual Reality and Augmented Realty – two products that have gained immense traction recently after several failed attempts which date back to almost 1957. Set to develop a foothold in both business and consumer markets, AR and VR are predicted to become a multi-billion dollar industry by 2022.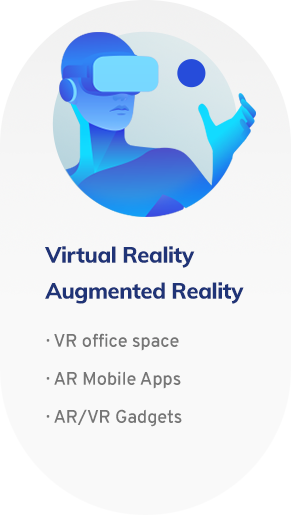 VR office spaces can turn any surrounding into a virtual office, offering multiple solutions to digital interactivity, applications, programs and more. Still, a work in progress – VR offices can mitigate the hassle of commuting and expensive physical office space, offering the same if not enhanced level of productivity and communication.
Mobile devices give the edge to AR, as it does not require a headset or any other gear to function, unlike VR. Integrating AR technology with the mobile hardware allows AR to access system tools like camera, etc to create an immersive experience within your phone screen. For example, let take IKEA's AR app that enables users to virtually fit any piece of furniture in their home space, taking into account the size of the space and decor. With close to 2000 AR apps available in the IOS Appstore and Google Play, the possibilities that a fusion of AR on mobile technologies brings seem endless.
AR/VR gadgets ranging from motion chairs, treadmills, body sensors, and 8K headsets will take the immersive virtual experience to the next level; creating a virtual environment that functions and looks like the real world – our second reality.
Bringing the edge to cloud computing:
The cloud services market will continue to soar, Gartner predicts that cloud spending could reach $206.2 billion in 2019. Even as cloud implementation grows so does the tsunami of data, bringing the challenges of delayed latency, less distributed work-loads, and security.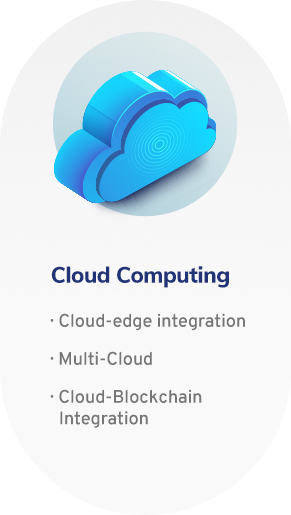 The edge computing platform transmits data through servers that are positioned in a location that's physically next to the user. Ideally, a unified solution; like the Cloudedge, can channel the benefits of both platforms by distributing application processing to bring a myriad of disruptive networking capabilities including a significant increase in transmission latency and bandwidth especially in a sea of endless connections of both people and things.
Multi-cloud strategies are on the verge of making a breakthrough. With almost 83% of enterprise workloads moving to the cloud by 2020, enterprises are looking for more flexibility to streamline their workloads on a unified environment using public, private and enterprise clouds. With the surge of native cloud apps coupled with the need to scale automatically – Multi-cloud will be the next stage in enterprise cloud storage.
Can a confluence between Blockchain and cloud computing be made possible? Blockchain is touted as the decentralized method of transferring information. Yet, this peer-to-peer network does require a rapidly scalable, intuitive and accessible data storage infrastructure like cloud computing. Similarly, to overcome cloud computing shortcomings, Blockchain's ultra-secure data processing methods; where each chunk of data needs to be validated by a cryptographic hash to validate individual blocks, could be the secure repository that the cloud needs.
Chatbots – Going beyond customer service:
Chatbots are set to alter the course of customer service and marketing, with almost 40% of large businesses predicted to implement chatbots by the end of the year. Chatbots will become the future of conversationalist marketing.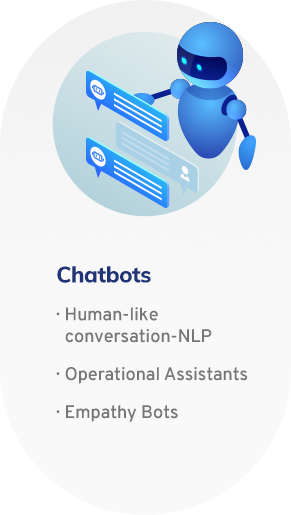 One of the key drivers of chatbots is going to be the evolution of Natural Language Processing (NLP). Through NLP, machines can interpret human natural languages and with AI computation respond to it via text, voice and possibly physical actions. Furthermore, NLP is set to make chatbots conversations feel more human-like.
Digital marketing and e-commerce have taken a massive leap forward due to bots, even as the technology grows; businesses are looking at newer ways to leverage benefits from chatbots. Marketing and HR professional use bots to streamline their lead generation and prospect scanning processes respectively. More interestingly, integrating a voice-activated operational assistant in offices to mine data in real time could gain more traction compared to applications or management software.
Often during conversations with humans, the lack of empathy shown by bots makes it look cringe-worthy, until now. Chatbots like Replika or Woebot are creating human-like companionships with bots. Built to mirror your mood, Replica absorbs your mannerism, speech patterns etc, to create a conversationalist partner just like you except with unbiased views. These apps are already being billed as a remedial force for millennial depression.
Conclusion:
Digital transformation trends shouldn't be pinned on just technology. It's also about how it can adapt to your team culture, impact customer lives and expectations, and bring continuous business growth.
As we explore the major shifts in the digital landscape in 2019, CEOs and leaders need to step up and assess disruptive trends that can give them an early advantage over other businesses – after all, "the early bird catches the worm".