| | | | | |
| --- | --- | --- | --- | --- |
| | | | | |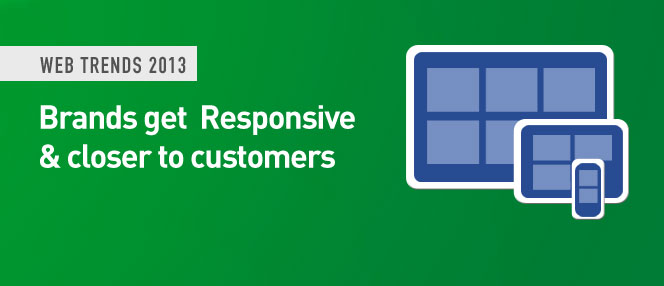 Our young generation lives and breathes digital. It's like that old joke saying, "I was not born. I was downloaded." So with much happening in the digital space in the country, it is but important for businesses and their websites to live up to (or rather surpass) the expectations of the average user (the viewer). Everybody has got talking on SoLoMo (Social, Local and Mobile), but then are businesses prepared to delve deeper? Do they have the resources in place to handle the new media demands? We take a look at a few important trends to watch out for that will perhaps shape up the digital cloud nine in the country.
Responsive is the way to go. Do you want your website to be device agnostic? Check out our responsive web design services. Website designers will soon have to catch-up and adapt to responsive design practices to offer businesses the best of all worlds when it comes to website development – be it for viewing on a PC, a Tablet, a Mobile Device or a large screen LED TV. Usability engineers and designers will find navigation a challenge but more innovative approaches are likely to be witnessed in the coming months ahead. With Responsive Navigation, we expect new breakthroughs to happen in mobile advertising and content for search.
App it up. Sizeable players like Flipkart, Jabong, Quikr, Redbus, Cleartrip and several others made headway in online shopping in 2012. And a number of them have witnessed a chunk of the traffic from mobile users – both via Apps as well as mobile browsers. Thanks to the burgeoning community of mobile internet users, businesses and brands will look to leverage more from the mobile media – via apps, mobile advertising and mobile-friendly websites. Time is also ripe for M-Commerce with mobile apps. While the payment gateway providers in India are still only a hand few (direct players include ICICI Bank, HDFC Bank, Citibank and Axis Bank, and third-party providers include CCAvenue, TechPro, EBS, Payu), we are expecting PayPal to come back with India-centric products that will be a boon to small businesses.
Video Marketing. A powerful tool for content marketers and SEO analysts working with Online PR, video clips and video advertising is set to be in demand. Brands as well as businesses will make use of short-video clips to popularise or even test-market their product and service offering. One can lean back to the free media on YouTube, Vimeo, and Facebook instead of spending on paid channels. What's more interesting is the rise HTML5 players that now make video-viewing compatible across iOS devices (earlier Flash based video players were not compatible on an iPhone and iPad).
Hack the Hacker. While security will continue to be a threat from across all corners, one should expect more hackers to be on the pry. It may not only be defacing a website or robbing data from the database, but something as simple as content hacking also stands a threat to a brand's visibility and presence online. Designers and developers will look for building solutions to overcome loopholes with decreased dependencies on insecure plug-ins. Thanks to analytics, statcounters and webmaster tools, one can monitor traffic to the website, see deviating trends in traffic and search strings and attend to immediate resolutions in the instance of a script or code injection.
Store them on the cloud. Hosting service providers are in for a fortune. With the amount of data, not to mention the tens and thousands of kilobyte videos and images out there, cloud storage will gain popularity. Equally integral will be the cloud backup software and cloud backup devices that will help digitization in a big way. What may not change much is the pricing of the Indian Data Centre which still continues to be on the steeply higher side when compared to the global cloud hosting players outside. So we will continue to depend on our foreign friends. Although Hostgator and GoDaddy have started India operations, their data centres are still outside India.
To sum up, businesses and their marketing task force have a bigger challenge in hand as their target audience is now more than equipped with the power of choice at their finger-tips. It just takes a click and a swipe to decide on what to buy. So it is important to address your brand's visibility on the mobile media as much as it should on the digital cloud.
LIKE THIS POST? SHARE IT WITH YOUR FRIENDS!